Ashland, Oregon
695 Mistletoe Road
Unit E
Classes / Workshops
One-on-One Instruction
Open Studios
Memberships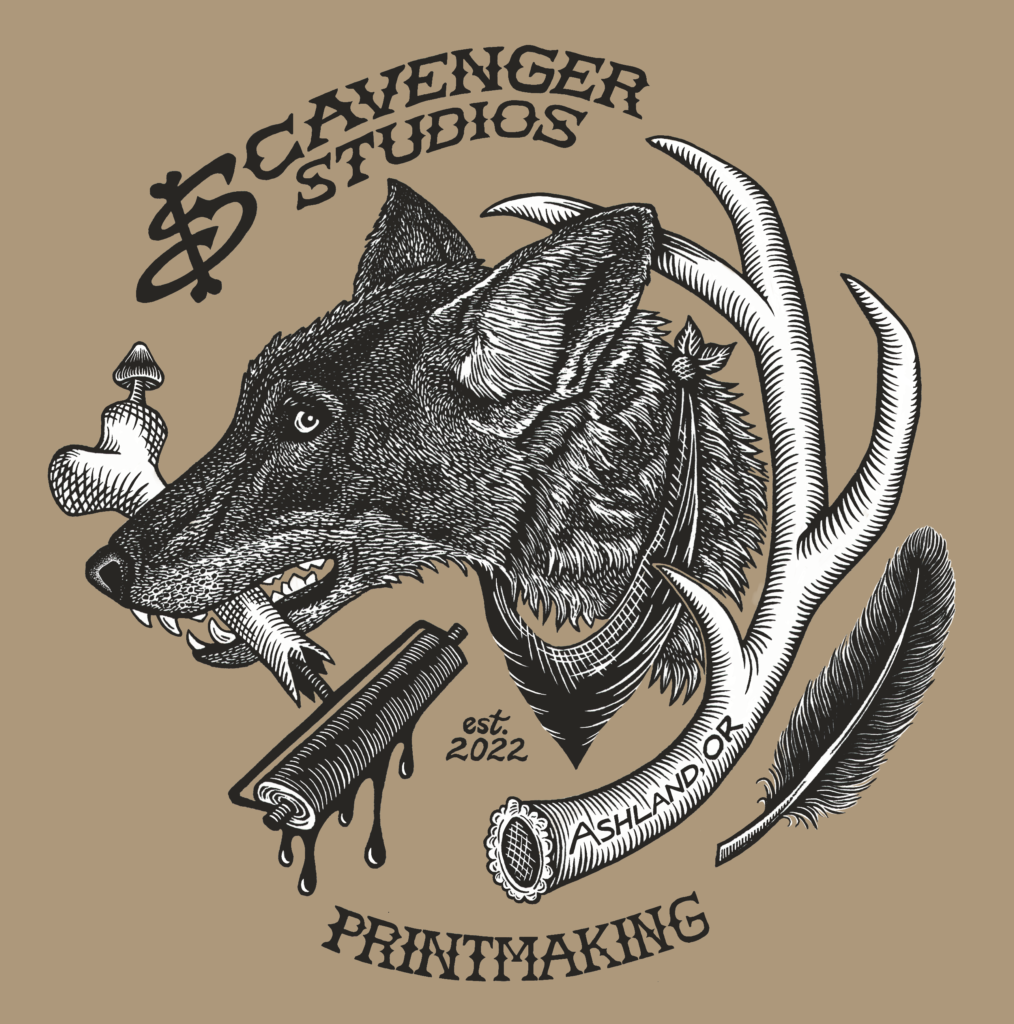 Assisted
– Novice printmakers with little to no experience
– Supplies for demonstrations provided
$30 an hour
This is a great option for folks who have been wanting to learn more about printmaking but are unsure what process to pursue. I will consult with you and help determine which printmaking technique is best for your project or concept. It helps if you have an idea of something you want to make or a process you want to try. I work with you one-on-one and walk you through it step-by-step, ensuring you achieve a desired outcome!
Advanced
– No instruction needed, full access to equipment
– Bring your own supplies, basics provided
$20 an hour

This option is for creators who are fairly familiar and comfortable with printmaking. I will be present in the studio while you are working in case you need general assistance or suggestions. During these sessions, I will be working on my own projects nearby and am happy to share with you any tips or tricks I have along the way. The space will be reserved for you during this time so you will have as much room as you need!

Register below to schedule – no drop ins

Intro. to Block Printing

4 sessions // 3 hours each
$260 all supplies included
This includes printmaking paper, ink, linoleum blocks, transfer paper, and you even get to keep your own set of carving tools!
4 Tuesdays in January
January 9th, 16th, 23rd, & 30th
Week 1 – Jan. 9th. from 5-8pm
Week 2 – Jan. 16th from 5-8pm
Week 3 – Jan. 23rd from 5-8pm
Week 4 – Jan. 30th from 5-8pm
Learn the foundational skills at the heart of Relief Printmaking aka Block Printing. We will explore multiple ways to create linocut prints from beginning to end. Learn the basics of carving, tools of the trade, various image transfer methods, inking & printing, variegated rolls, multiple block registration and more! You may enter this class with zero to little knowledge but will leave a confident printmaker who is able to carry on the art form long after our class ends!


Register for Classes/Open Studios
Memberships
* Coming January 2024 *
Scavenger Studios is now offering memberships to local printmakers looking for regular access to a printshop! Becoming a member is great for those who wish to sustain their personal practice through consistent time spent working in the studio. A limited number of members at Full-Time and Part-Time levels will be granted access.

Full-Time Membership
Schedule up to 40 hrs per month
1 month – $120/per month
3 months – $110/per month
6 months – $100/per month
Part-Time Membership
Schedule up to 20 hrs per month
1 month – $60/per month
3 months – $55/per month
6 months – $50/per month
Members are allowed to reserve the studio 7 days a week:
Monday – Thursday
12pm-8pm
Friday – Sunday
9am-6pm
Studio times scheduled via a shared calendar.
You can reserve the entire studio for yourself or opt to share with members.
Good dogs welcome!
Members will be given a storage area to keep supplies.
Discounts on classes & workshops.
Members only Happy Hour – 1 st Thursday of every month 4-6pm!
If you are interested in joining:
Fill out the Membership Application via Google Forms
or  
Fill out the PDF version and email it to info@scavengerstudios.net

"Where Printmaking meets Herbalism"
Experience the wonders of plant medicine and the art of printmaking! Each class will focus on a particular plant ally and print technique. Students leave with a more holistic understanding of the plant's gifts through meaningful hands-on interaction. Participants gain a deeper appreciation for the natural world through the creative process.

We typically begin with a short lecture from the herbalist about our chosen plant, its properties, benefits, how and where it grows, how to ethically harvest or sustainably source it, historical uses, folklore, and more. We will then formulate a tincture, salve, tea blend, vinegar, etc. using the plant. During the printmaking section of the class, you will partake in a demonstration of a printmaking technique that incorporates our plant of the day. Students are guided through making their very own prints by engaging a range of print mediums including copper etching, relief carving, screen printing, monoprints, drypoint engraving, and more. Not only will you leave with new knowledge and skills; you get to take home an herbal offering and handmade prints!